Automatically Transfer Your Property Without Probate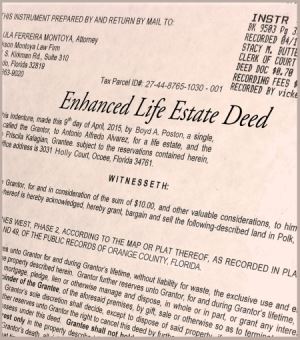 Clients often ask, "Is there a simple way of passing the ownership of my home at the death to my beneficiaries without the need for probate courts and attorneys?" In Florida, Texas and Michigan the answer is yes. These 3 states have what is referred to as a "Life Estate Deed". It is sometimes known as a Beneficiary Deed or a Transfer on Death (TOD) Deed.
Although 18 other states have some form of life estate deed, only Florida, Texas and Michigan enable the owner during their lifetime to retain complete control over their property, and upon death the property transfers immediately to the beneficiary without any requirement of probate. Life estate deeds are often nicknamed "Lady Bird Deeds" after Lady Bird Johnson because allegedly, President Johnson once used this type of deed to convey some land to his wife, Lady Bird.
What is a Life Estate and How Does it Work?
With a life estate deed, it means you have complete control over your property. During your lifetime, you maintain the right to mortgage or sell your real estate without the consent from the beneficiaries named in the deed. The beneficiaries are referred to as "Remaindermen." At your death, your property is immediately owned by the person(s) you name as your remainderman. In Florida, you may place as many properties you own into life estate deeds whether it is your primary residence, a rental or vacation home, vacant land, or otherwise.
What is a Regular Life Estate Deed?
As of 2014, unlike Florida, Texas, and Michigan, 19 other states have what is referred to as a "Regular Life Estate Deed", and all other states have no form of life estate deed whatsoever. In states using regular life estate deeds, the owner of the property is making a gift of the remainder to the remainderman and therefore is unable to mortgage or sell the real estate without the remainderman's permission. This type of life estate deed may not be preferable because not only are you sacrificing ownership prior to your death, it may cause unanticipated consequences during your lifetime.
Get Answers From an Estate Planning Lawyer
Many of our Florida clients see their real estate property as their greatest asset and through the use of an enhanced life estate deed they can protect their property against probate without the need of relying upon the last will or revocable trust to transfer the property at death. Before you make the decision to prepare an "Enhanced Life Estate Deed" contact our firm and speak to an estate plan attorney.