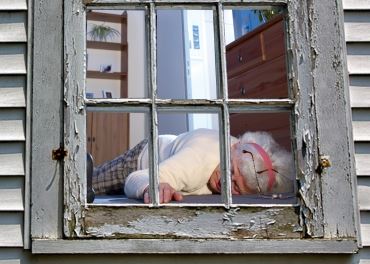 Take Control of Your Life & Assets
Martha, a 75-year-old widow, fell in her own home and was unable to get up. Two days later, Martha's next-door neighbor happened to hear yelling and crying coming from Martha's home. The neighbor peered in through a window and immediately recognized that Martha needed help and called 911. The police and an ambulance arrived, entered the home and carried Martha to the hospital emergency room. Martha was diagnosed with a broken hip.
From that point, Martha's well being took a downward spiral. Martha's doctor learned that she lived alone and was partially blind. Although she had all of her mental faculties, following a hip operation she would need physical therapy. Martha said she had no living care documents and no living relatives with whom she maintained a close relationship other than a granddaughter. After several unsuccessful attempts to contact the granddaughter the doctor contacted the Department of Children and Families (DCF). Because Martha was unable to care for herself, DCF petitioned the court to appoint a Professional Guardian for Martha. Once a Guardian was appointed, Martha's life dramatically changed.
After visiting Martha's home and witnessing complete disarray, such as filthy dishes, spoiled food, unattended cats, cat feces throughout the home, and much more, the Guardian having authority over Martha's health and financial well being, reported to the court that Martha should not return home and placed in an assisted living facility.
Martha argued to the court she wanted to go home and not to be placed in an assisted living facility as suggested by her Court Appointed Guardian. Even though Martha had all of her mental faculties, the court sided with the Guardian stating that because of Martha's physical disability, partial blindness and the condition of her home Martha should be placed in an assisted living without any hope of ever returning home.
In order to pay for Martha's living expenses or subsequent costs for application for Medicaid benefits, the Guardian sold Martha's home, liquidated her bank accounts and set up a trust account to pay for the guardian's salary, assisted living facility and any Medicaid costs that may become necessary.
Avoid the Need for a Court-Appointed Guardian
Could Martha have avoided the need for a Court Appointed Guardian and retained ownership of her home and other assets? Could Martha have returned home after her surgery rather than being placed in an assisted living facility? The answer to these questions is yes.
Had Martha prepared living care documents such as a Preneed Guardian, Health Care Surrogate and a Durable Powers of Attorney naming someone she trusted to assist her in her time of need, she could still be living at home in control over her own life and assets. To find out more about living care documents contact the Jackson Law for a lawyer experienced in estate planning and elder law right away.