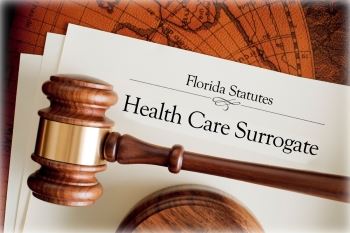 In a previous newsletter to our clients, we informed you about Florida's law governing Health Care Surrogates that was revised to provide greater flexibility. The new law gives you the option of naming one or more surrogates to assist in managing your health care decisions even if you are competent to do so yourself, rather than only at a time of incapacity. Of course, if you choose this option, you are still able to supersede any instructions or decisions made by your surrogate and your decision controls. While the old version is still valid, our new form gives you the option to choose which version you desire.
Multiple Decision Example
As a result of experiencing serious chest pains, Preston, 49 years old, was rushed by ambulance to the hospital. The doctors determined that he was suffering from a rare heart condition that could be repaired through surgery that would eliminate further incidents similar to the one that put him in the hospital. Without surgery, he would live with the constant threat of dying at any moment although it was possible he could live out his life without further life-threatening occurrences. The procedure in question was elective and required stopping Travis's heart which carried a risk of death. The decision was extremely stressful for Travis and he believed he could not make the decision alone. Any decision would impact his entire family. Having previously designated both his wife and 2 adult children as his health care surrogates, he requested that they all participate in the final decision. They all agreed on the elective surgery which was a success and Travis will live out his life without the fear or stress of another such incident.
Also, as a result of changes to the existing law on health care surrogates for adults, there is now a health care surrogate for parents to name one or more surrogates for minor children in the event the parents are unable to make health decisions for their minor child.
Minor Child Example
Bill and Sara who have been married for nearly 25 years decided to take a long-awaited vacation to Europe leaving their two children at home. The oldest child, Caroline, is now an adult and 21 years old, and their youngest child, David, 17 years old. Prior to their departure for Europe, Bill and Sara wisely prepared a health care surrogate for David that included Caroline as one of David's health care surrogates. While Bill and Sara were on vacation, David was injured in a car accident rendering him unconscious with a serious brain concussion and comatose. The doctors proposed a new and risky procedure that they believed would relieve the swelling in David's brain, bring him out of his coma and provide him a full recovery. Because Bill and Sara were abroad in Europe at the time of David's accident and were unreachable by Caroline, she had to make the decision for David's treatment. She made the right decision and David fully recovered.
If you haven't revised your designation of health care surrogate, or if you have minor children and do not have health care surrogates named for them, contact Jackson Law PA and we will counsel you on the changes and prepare new or additional documents for you and your family.